Private Air Charter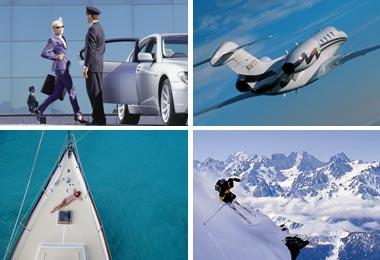 Gone are the days when private jet charters were just the domain of the Aristocracy and Pop stars.
You too can now also take advantage of private aircraft charters, meaning that you decide where you want to go, what time you want to depart and what time you want to come back. (Your aircraft will even wait for you if youíre late) at prices that might surprise you.
Whether it ís for business of pleasure, youíll experience a level of service far beyond even the most ambitious of commercial airlines.
From special golf weekends, to romantic French Chateaux trips or popping down to Monte Carlo for the weekend, the world is at your call.
Below are some suggestions of the types of trips that can be organised quite easily. But remember the route and timings are yours to choose.
Champagne lunch in Reims flying time from Norwich to Reims is only 55 minutes in a Citation Bravo.
Golf by the Dordogne flying time form Exeter to Bordeaux is approx 1 hour 10 minutes in a Citation Excel.
Watch Barcelona playing at the Nou Camp in Barcelona flying time from Humberside to Barcelona is approx 2 hours 20 minutes by Hawker 800 series.
Have you ever wondered what it would be like to fly in a helicopter, maybe taking family or friends for a memorable day out, well Bookfhr.com can also arrange this for you.
Imagine the scene as your helicopter arrives near your house to whiz you all off to a secret destination, be at a Scottish castle, Country house or to a special event taking place in another part of the country.
Even if itís just for business, you can avoid all traffic by hiring your own private helicopter transfer, ideal for those with too much to do and too little time to do it in.
All we need from you to start the ball rolling is for you to complete some very brief information in below form. We will contact you back to go through your individual requirements and to tailor make your private charter booking.
Example Prices and Routes
PA-31 Navajo
C550 Citation 2
do328Jet
from
to
Day stop
Max Seats
Day stop
Max Seats
Day stop
Max Seats
Flight Duration
London
Amsterdam
£3,885
6
£5,355
7
£17,798
15
1hr
London
Vienna
£9,660
6
£23,258
15
2hr 10mins
London
Paris Le Bourget
£3,959
6
£5,408
7
£18,060
15
1hr 5mins
London
Dublin
£4,095
6
£5,618
7
£18,060
15
1hr 5mins
Prices are estimated on using an aircraft based at a London airport i.e Farnborough, Biggin Hill, Luton, Gatwick or Stansted